Slider to case clearance
In order to explore possibilities for adding stabilizing elements to the spacer frame, we need to determine the horizontal gap between case and slider mechanism. We measure this indirectly by determining the distance between the steep outer side of the display and the edge of the slider. Using the case wall thickness, the gap between slider and wall can then be calculated.

These measurements show a systematic difference to the wall thickness of 1.5 mm. This can be explained by the shape of the display case, which transitions from the plateau to the wall through a small step. This step is almost invisible in the mesh at the top edge but can be clearly seen at the bottom edge: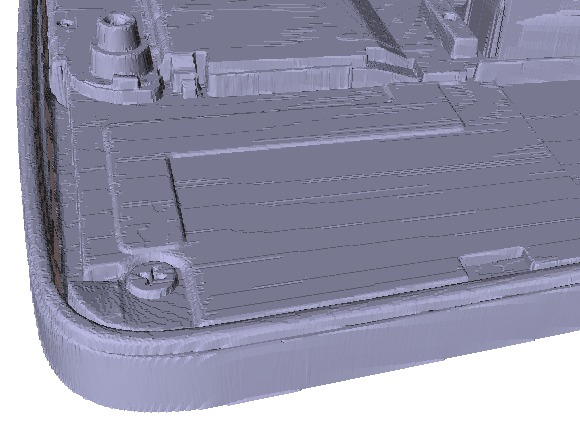 With the scanning equipment equipment used, such a step is difficult to measure accurately due to the conical shape of the scanning needle. Combining results from the top and the bottom edge (below), we estimate the step to have a width of about 0.4±0.1 mm.

We show distances corrected for the step width in parentheses after the original measurement. The minimum distance between slider metal and the case is thus 0.1 mm, with the gap sometimes growing to about 0.5 mm (zones A a and B) or even 0.8 mm (zone C).
The measurements also show a significant difference between the distance between slider and the outside wall of the display on the left and on the right side. We did not examine this further, but consider it possible that the difference may have been caused the 0.4 mm step entering some of the measurement while being absent from the others.
---